Ok so maybe I've not done what I originally set out to do with this blog and I've decided it's time to try help you earn some dough if you are one of the few people to read this thing.
I've got about a 75% strike rate with my UFC bets and usually will try get one big upset in there to help. So with 2 title fights and a stacked card this coming weekend I think it's only right to try beat the bookies and start doing this blog as I originally set out to.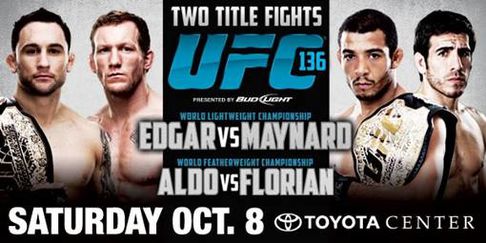 So let's breakdown the main card and what's worth a bet. As far as pricing goes I'd highly recommend Bet365.com and Paddy Power for their odds. PP are better for specialist bets like method of victory and round betting. Bet365 tend to have the better outright price. They're both based on no draw betting so in the highly unlikely event of a draw they will void the selection and the bet is deemed a push.
Lightweight Championship

bout
:
Frankie Edgar (c)
vs
.
Gray Maynard
As the first two fights have shown these two are evenly matched although Maynard is the bigger, stronger of the two when it comes to their phsiques. He has earned his nickname of the Bully with his grinding style that's very similar to Jon Fitch. He also has some heavy hands as evident in the second Edgar fight when he sent Edgar head over heels in the first round. He dominated that round to the point that Frankie nearly had a 10-7 round against him. Have a look at the below gif to illustrate how close Maynard came to ending that fight. There was some suggestions he may have punched himself out trying to end the fight at this point.
Here's where it gets difficult though. Even after that disaster of a first round Edgar persevered on many people's scorecard over the next 4 rounds. He managed to take Maynard down impressively and as ever with Edgar his conditioning is amazing. He darts in and out and throws punches with as much vigour in the last seconds of a 5 round fight as he does in the first few seconds of the 1st round. I personally think this fight is too close to call. My heart would say Edgar will avenge the only loss of his career in this one but it really could go either way. Both are great wrestlers but I would say Edgar is the better of the two on the feet.
Recommendation: Avoid betting on this one. Just sit back and enjoy what could be a fight of the year contender.
Featherweight Championship

bout:
José Aldo
(c) vs
.
Kenny Florian
Kenny Florian has twice gone for UFC gold and twice been mangled. First by Sherk and then by BJ Penn. Personally speaking I do not think Florian has it in him to beat Jose Aldo if he is on form. Aldo is a miniature version of Anderson Silva with dynamic striking and could be best described as a vicious ballet of violence. You can see some of his handy work below.
One question remains though with Aldo. How badly will the weight cut hurt him? Video of him complaining about his weight cut have been uploaded online and it is known from his last fight that he gassed particularly in the later rounds. Will it be 3rd time lucky for Florian as far as taking UFC gold? The simple answer is no. Aldo should win this most likely by TKO. Expect Florian to come out flying though as I believe he will try press the action so as not to let Aldo get comfortable.
Recommendation: Put the house on Aldo. He's currently around 1/3 with the bookies. With his record and ability I think thats a suitable price.
Middleweight bout:
Chael Sonnen
vs.
Brian Stann
If this was a shit talking contest it would be a non event as Sonnen has really put himself in a class of his own in that area. From the moment he started calling out Anderson Silva last year he's been on an absolute tear. Whether it's been the Nogueira brothers or the California State Athlethic Committee; Sonnen has had some funny views. To the extent that if Sonnen is to be believed this fight is an unofficial title fight. Yes I know he's kidding but the metric has changed as for the first time in a long while Sonnen is going to be doing his talking in the Octagon. If you've not seen his most recent Q&A for the UFC Fightclub have a look at this.
Ok so that's the verbal stuff over; lets get down to the business end of things. This is most likely a Middleweight contenders bout regardless of the winner as both make extremely marketable fights with Anderson Silva should he stay at 185 for another fight. Sonnen due to his beating of Silva in 4 rounds of that fight and a rematch could do huge PPV numbers. Stann because he's got the potential to be the new captain America. No Randy will never be replaced but Stann is a war veteran and this holds him in good sway with the public.
Sonnen is an Olympic calibre wrestler and is relentless with his ground and pound but his record for finishing fights is rather poor. His last finish came against Kyacey Uscola over 4 years ago. Uscola is nearly a 50-50 fighter over his 40 plus fight career so it's not too impressive. He has also shown continued poor defense against submissions especially triangle choke variations which have accounted for over 50% of his 11 losses. Sonnen was mightily impressive against Anderson Silva but there is still question marks over the performance for two reasons. 1. His positive test for testosterone in the fight. 2. The reported rib injury to Anderson Silva. These two factors do leave a question mark over what was probably the performance of his career.
If we look at Stann we see a guy that's on a complete tear since dropping from 205 to 185. His most recent UFC loss coming at the hands of the unbeaten Mr. Wonderful Phil Davis that saw him make the decision to drop down a weight class. Since dropping down to 185 Stann has been impressive with three stoppage victories (one arm triangle sub and two nasty TKO's). Stann in my opinion has the better of his opponent on the feet but the biggest question is can he keep Sonnen from getting him down? I think at some point he is going to be on his back and we're yet to see Stann in a difficult position for a long time to see how his ground game has evolved. Still I think the ability to cause Sonnen difficulties on the feet may sway this in his benefit as we all know each fight starts standing and with the amount of time Sonnen has had out of the Octagon I think he is way too short a price with a lot of value being put on the Anderson Silva fight.
Recommendation: This should be the upset of the night 9/4 with Bet365 seems to be the best price going at this time. This will probably go the distance but don't be shocked if Sonnen does end up the victim of a TKO as Stann's conditioning is quite something to behold.
Other Main Card fights and selected prelim recommendations:
Lightweight bout:
Joe Lauzon
vs.
Melvin Guillard
This should be Guillard's fight to lose although Lauzon may pull a shock via submission. I'd recommend Guillard heavily based on his form since switching to Greg Jackson's MMA. Currently he's around 1/3.
Recommendation: Guillard
Featherweight bout:
Leonard Garcia vs.
Nam Phan
Personally speaking I'd say Phan. He was robbed of a decision in their previous fight. Garcia will remain active and throw for the fences regardless but Phan is the better striker of the two and his technique should see him through. No odds are available for me at this time on this one. Phan will probably be around 4/6 I reckon when the bookmakers set the odds.
Recommendation: Nam Phan
Middleweight bout:
Demian Maia
vs.
Jorge Santiago
I give the advantage in this fight to Maia. We've seen massive improvements in his striking game since he was the victim of a one punch knockout by Nate Marquardt. Santiago is a quality opponent but Maia's improved striking and his top of the food chain BJJ game should see him through. I suspect that there may be some value in a Maia TKO bet for this one. No odds are available at the moment.
Recommendation: Demian Maia
Lightweight bout:
Anthony Pettis
vs.
Jeremy Stephens
Two quality strikers in need of victory to elevate them into contendership. Pettis turned down a guaranteed title shot to fight Clay Guida and was the victim of Clay's underrated wrestling game. Pettis had the highlight reel moment of 2010 and I believe if he can stay away from Stephens' heavy hands and vicious kicks that he should prevail. Stephens is coming off the back of two impressive wins of his own including a KO of Marcus Davis. I still think Pettis' dynamic striking and excellent ground game should see him through. He's currently around 4/11.
Recommendation: Anthony Pettis

With that all said I'll leave you with the kick heard all around the world and if you haven't seen it. Enjoy. If you've any comments or opinions on the selections feel free to put something in the comments.

Happy punting folks.